Korea wins 1-0 over Saudi Arabia… Will this be an opportunity for Coach Klinsmann to rebound?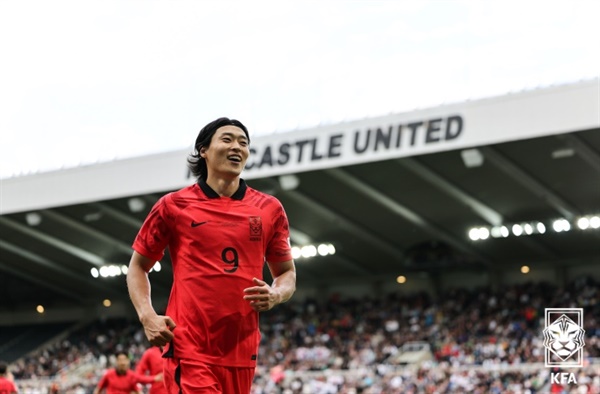 Klinsmann recorded his first win in 6 games since his inauguration.


The Korean national soccer team, led by coach Jurgen Klinsmann, defeated Saudi Arabia 1-0 in a friendly friendly match held at St. James Park in Newcastle, England, on the 13th (Korean time). 


After taking office as the head coach of the Korean national team in February of this year, Coach Klinsmann failed to win five consecutive games, the most in history, and sparked controversy due to his frequent out-of-the-box actions. Coach Klinsmann put out the fire by earning his first win with difficulty. 


Korea and Saudi Arabia were desperate for victory, a fierce battle without concessions. 

On this day, Son Heung-min and Cho Kyu-sung came out as 'two tops'. 
The left and right attacks were handled by Hwang Hee-chan and Lee Jae-seong, while the midfield was guarded by Hwang In-beom and Park Yong-woo.


The defensive line consisted of Lee Ki-je, Kim Min-jae, Jeong Seung-hyun, and Seol Young-woo from the left, with Kim Seung-gyu wearing the goalkeeper's gloves. 
Compared to the Wales game four days ago, the changes were minimal, with Hong Hyun-seok removed and Hwang Hee-chan inserted as a starter.


Korea, desperate for victory, aggressively attacked from the start of the game. 
However, in the 6th minute of the first half, Seung-Hyun Jeong and Seung-Gyu Kim lost the ball due to misalignment of hands and feet, but Seung-Gyu Kim managed to make a save and overcame the risk of conceding a goal. 


In the 9th minute of the first half, Korea also had Son Heung-min's ball given away in a set piece situation, and Lee Ki-je connected with a left-footed shot, but it missed the goal slightly, making Saudi Arabia nervous.


Saudi Arabia's counterattack was also formidable. 
Last month, Saudi Arabia recruited world-renowned Italian coach Roberto Mancini. 
In addition, the government spent a huge amount of 'oil money' to recruit star players such as Cristiano Ronaldo, Karim Benzema, and Neymar to the domestic league.


However, Saudi Arabia was also desperate for a win after suffering two consecutive losses since Manager Mancini took office, and on this day, the two teams faced each other with attacks.


Jo Gyu-seong's head did it again… Scoring in an A match for the first time in 10 months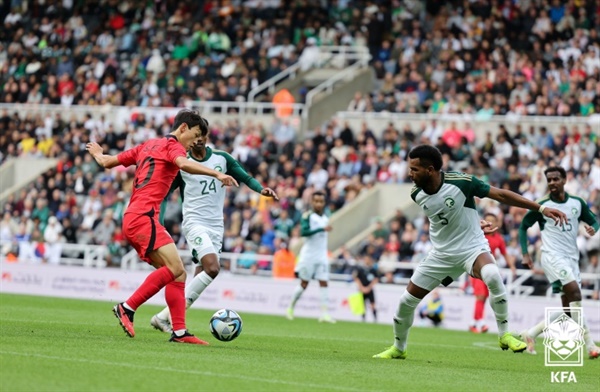 Although they were momentarily taken aback by Saudi Arabia's attack, Korea increased their possession of the ball through backward passes, increased the intensity of their attacks, and scored the long-awaited first goal in the 31st minute of the first half. 
When Hwang In-beom's pass bounced off a Saudi player, Cho Kyu-seong pushed it in with a header. 


It is also a welcome international match score that comes 10 months after Cho Kyu-sung scored multiple goals against Ghana at the 2022 Qatar World Cup in November last year.


Korea, whose steps were much lighter, seemed to immediately seize the opportunity to score an additional goal in the 36th minute of the first half. 
Son Heung-min, who received Cho Kyu-sung's pass, had a decisive one-on-one chance, but was tackled by an opposing player and fell. 


Son Heung-min fell down and claimed a penalty kick with an aggrieved expression on his face, but the referee did not blow the whistle.


Korea continued to fire sharp shots in the second half, but were blocked by a series of saves by Saudi goalkeeper Muhammad Uwais. 
As stamina declined and the offense became dull, Coach Klinsmann replaced Cho Gyu-seong and Hwang Hee-chan and replaced them with Hwang Ui-jo and Moon Seon-min.


Will Klinsmann-ho, the 'revival of the article', change now? 
토토사이트 However, as Saudi Arabia boldly raised its attack line in hopes of scoring an equalizer, Korea could not neglect its defense, and the players, who were heavy on their feet, made several mistakes and faced the risk of conceding a goal. 
Fortunately, Kim Min-jae held on steadily and saved one goal until the end, and Coach Klinsmann confirmed the victory by using up the remaining time with a replacement card.
As a result, Cho Gyu-seong gained an upper hand in the competition to be Klinsmann's frontline striker, and Kim Min-jae jumped forward to block Saudi's shot even in the midst of a crisis for the overall defense, and the two players played as the core of the offense and defense.
Korea failed to win against Colombia (2-2 draws) and Uruguay (1-2 losses) in the March A match, Klinsmann's debut game, and also lost to Peru (0-1 loss) and El Salvador (0-1 loss) in the June A match. They had repeated poor performances, including a 1-1 tie) and a draw.
On the 8th, the team's first trip to Europe, they drew 0-0 with Wales, setting a record for the most games without a win since the introduction of the full-time national team manager system in 1992.
Although they achieved their first win, their performance is still not satisfactory. There is still controversy over Coach Klinsmann's work style and player selection. But in the end, everything depends on grades. The recent controversy is ultimately due to poor performance.
It remains to be seen whether today's victory will be an opportunity for Klinsmann to rebound, or whether it will be just temporary luck. The Korea Football Association (KFA) announced that the national team's October international match schedule will include matches against Tunisia on the 13th and Vietnam on the 17th.